As accommodation nearby is limited, especially during peak season, we encourage you to book as early as possible.
To enhance the feeling of community, and/or to make it more affordable, it may be possible to share accommodation with someone. If you would like to explore this option, please contact
Green Corfu: studios and apartments in Arillas and nearby. Contact: Alex and Christina
www.greencorfu.com
Email: info@greencorfu.com
Tel: +30 2663 051 889
Mobile: +30 6932 648 788
To book your own accommodation directly, here are some recommendations for nearby hotels:
Giannis Apartments (approx. 5 minutes to Gayatri Mandir)
Please contact Giannis. Web: giannis-apartments.gr
Email: Giannis.Apartments@yahoo.gr
Tel: +30 6934 776 812.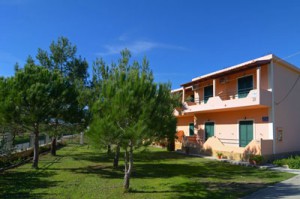 Feakes Studios (approx. 3 minutes to Gayatri Mandir)
Tel: +30 2663 052124
Web: Feakes Studios
Thomas Huts (approx 5 min walk to Gayatri Mandir)
Email: VavilasFishingHuts@gmail.com
Tel: +30 6977 025 393 / +30 6987 537 866.
Bardis Hotel (approx. 5 min walk to Gayatri Mandir)
Email: info@bardis-hotel.com
Tel: +30 26630 52050
Mobile: +30 69389 60283
Sea Breeze Hotel (approx. 7 minutes walk to Gayatri Mandir)
Sea view and a swimming pool.
Email: taverna.gratsela@gmail.com
Tel: +30 26630 51039
Mobile: +30 6973919269
Palms of Corfu (approx. 5 minute walk to Gayatri Mandir and the beach)
Studios and apartments. Please contact Daya at: reservations@PalmsofCorfu.com
Info and photos at: www.PalmsofCorfu.com
Dharma Corfu (approx 10 min walk to Gayatri Mandir)
Please contact Chinta at http://dharmacorfu.com/contact/
Tel: +30 693 45 93 201 / +41 79 682 40 93
Info and photos at: www.DharmaCorfu.com
M. Kokinos Apartments
(approx 7 min walk to Gayatri Mandir)
Email:
info@monamourkokkinos.com
Tel: +30 2663051106
Mirage (approx 10 min walk to Gayatri Mandir)
Mirage:www.miragecorfu.com
Email: info@miragecorfu.com
Tel : (+30) 26630 51694/ Mob: (+30) 6944225484
To find out more about Arillas and Corfu, please also visit www.Arillas.com and www.arillas-bliss.com