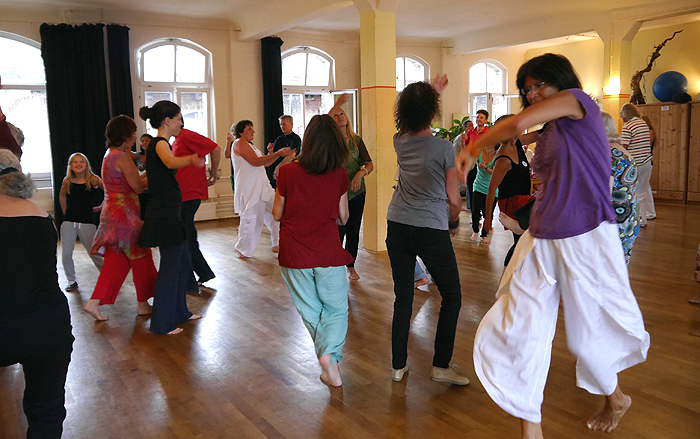 A Biodanza session typically lasts about one and a half to two hours. It is usually danced barefoot and in comfortable casual clothing.
The teacher leads the group by explaining and demonstrating each of the dances/exercises followed by the group then doing the dance.
The Biodanza session which is always progressive and designed specifically for each group so as to feel organic and natural, is unique and complete in itself.
The class works alternately on three categories:
Individual – dance alone, but at the same time as everyone else in the group
Together – with one other person (dances in pairs) or in a small group of 3 or 4 or 5 persons, often changing partners during an exercise a couple of times
Altogether – as one group (tribal dances)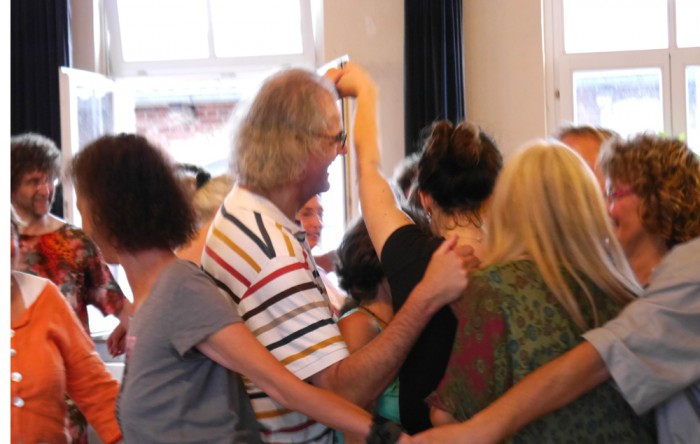 In this way we gain practice in connecting/feedback with ourselves, with another and with the group.
There is no talking during the class. Usually a class will consist of about 10 to 13 different dances with specific music designed to put you in the "here and now", in the present moment, to experience the "vivencia".
No dance experience is needed, there are no steps or routines to learn in Biodanza and no fitness requirements as the emphasis is always on self- regulation. All the movements should come from you – how you feel the music, a unique expression of yourself. Therefore it is impossible not to be able to do it, or to get it wrong.
Please bring a bottle of water, an open mind with you. Biodanza is impossible to describe, just come and experience it!