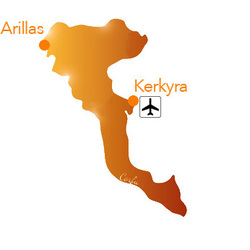 As it is the peak holiday season, we recommend that you book your flights and book your accommodation as early as possible.
To come to Biodanza holiday group, visitors must first arrive in Corfu Town (Kerkyra), Corfu Island's capital city and where the sea Port and Airport Kapodistrias (CFU) are located. All flights and ferries arrive to Corfu Town, which is about 40 kms or one hour drive to Arillas Beach by Car, Bus or Taxi.
Flights: Frequent and often inexpensive connections from many national and international destinations. Several low cost carriers fly to most European destinations on Saturdays and Tuesdays. These carriers include Tuifly, EuroWings, Air Berlin, RyanAir, EasyJet, WizzAir, and more. Flights from Athens arrive daily on carriers such as Aegean and Olympic Air.
Ferries: Arrive daily from mainland Greece and from several ports in Italy. Most come directly to Corfu, but some stop in nearby Igoumenitsa which has hourly connections to Corfu. Carriers include Minoan Lines, Grimaldi Lines, Superfast Ferries and Anek.
Bus services: Daily connections to/from Athens, Thessaloniki and many other Greek cities. Go to bottom of this page for more details.
Getting to Arillas Beach from Corfu Town/Airport
By Taxi
Taxi bookings with Vaggelis Rouvas, Email: rts@iqnet.gr
Mob: +30 697 5744947 (bookings preferably by SMS)
It may be possible for Vaggelis to arrange shared transport with other group participants to / from the airport. Enquire when you call.
You can also take a Taxi at the airport. The cost is between €55 – €65 each way and will take about 55 minutes.
By Shuttle bus service and also taxi bookings:
or
Arillas Travel
www.arillastravel.gr
Email: arillast@otenet.gr
Tel (Vasso): +30 693 3111061
By Bus
If you wish to take the bus, you will need to take a taxi to the main bus station in Kerkyra (about €10).
From Corfu town
Monday to Friday >>05:30, 08:00, 14:00
From Arillas
Monday to Friday >> 06:45, 08:50, 15:30
Bus ticket is about €4.80
By Car
You can rent a car (about 250.00 € a week) and have it delivered to you at the airport.
Local Taxis, Car & Scooter Rentals
1. Arillas Travel
www.arillastravel.gr
Email: arillast@otenet.gr
Tel: (SPIROS) 00306936717712
2. Arillas Cars
www.arillascars.com
Tel: +30 26630 51401
3. Dimitra & Manos rent a car
San Stefanos and Sidari
Email: ManosDimitra@yahoo.gr
Mobile: +30 6937 579 876
4. Scooters Only:
Arkokal Travel
www.arkokal.gr
Bus from and to Athens
You can travel from Athens to Corfu by ferry and bus.
Take a look at this website for detailed information and prices.
**Note: No train services on Corfu Island; International buses are, in most cases, not recommended.